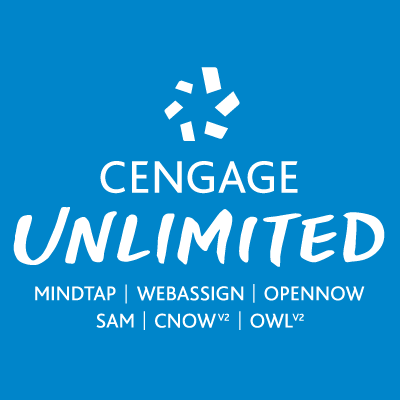 Cengage Unlimited Campus Representative (Spring 2020)
University:
California State University, Sacramento ; University of Wisconsin-Oshkosh ; San Diego Mesa College
This job is no longer available. Please check out other jobs
here
.
Description
As a Cengage Unlimited Campus Representative, your primary goal will be to distribute 500 flyers and 250 granola bars during your Spring 2020 semester back-to-school welcome week.
About Cengage Unlimited:
Cengage Unlimited is a subscription service that helps students like you save on their course materials. With Cengage Unlimited, you get access to all your Cengage online textbooks, access codes, study tools and more all in one place for $119.99 per semester. No matter how many Cengage courses you take or products you need, they are included in Cengage Unlimited at no additional cost. For eligible access codes, you can also get a hardcopy textbook rental for just $7.99 + free shipping. Cengage Unlimited also offers over $200 in value of extras from our partners like Chegg and Quizlet.
Benefits
Campus reps will earn a $100 stipend payment upon successful completion of the program.
Responsibilities
Campus reps work during their welcome week (which can be split up over multiple days) to distribute 500 Cengage Unlimited flyers and 250 granola bars to fellow students on-campus.
*Campus reps MUST work until they have distributed the 500 flyers and 250 granola bars.*
*Campus reps MUST be able to work during their Spring 2020 semester back-to-school welcome week. Campus reps will have 7 days to complete this job from the day their classes start.*
Qualifications
Well connected on-campus
Club + Greek life presence preferred but not required
Well versed on Cengage and Cengage Unlimited
This job is no longer available. Please check out other jobs
here
.